"
Hmm, what should I get? Maybe I'll just stand here looking pretty, and wait for a boy to buy me a smoothie and validate me.
"
Ball or Nothing is the 15th episode in Season 1 of the series I Didn't Do It.
Overview
When Lindy and Logan accidentally destroy their father's football signed by NFL Hall of Famer Dick Butkus, they go on a mission to track down the Chicago football legend and have him sign a new ball.
Story
Spoilers Below
The cold opener takes place in the Watson family basement. For some reason Dick Butkus and Alshon Jeffery are standing there, the former of which is carrying a football, and the latter of which is holding Bob Watson in his arms like a baby. Additionally, a snowmobile is crashed through one of the walls, and Garrett is bandaged from head to toe. Before either Lindy or Logan decide which of the two of them will explain what happened, the scene cuts to the opening theme.
After Jeffrey drops Bob to his feet, Lindy tries to shift the blame for the mess towards him. A flashback begins with the caption "Two weeks earlier..." in the living room of the Watson Household. Bob excitedly stands up and cheers in front of his laptop PC when Logan walks in the room behind him. Originally believing he was watching a Chicago Bears football game, his father tells him that he himself scored, rather than the Bears. Specifically he scored a football autographed by Dick Butkus in an online auction. Logan assumes the ball might be for him, however his father claims it's intended as a gift for his boss designed to persuade him to give him a promotion at work.

In another flashback which takes place in the Watson kitchen, and contains the caption "A few days earlier..." Lindy then explains that since their mother is out of town nobody was available to clean the dishes. Logan is eating take-out Chinese food, when Lindy walks in and notices the sink covered with dirty dishes, and no water. Logan would rather simply allow the leftover food to cake up on the dishes so he can scrape them off, but Lindy turns the faucet on in the sink and lets it run. While doing this, she notices a box on the countertop that she assumes is some make-up she ordered online. Lindy proceeds to mock Logan's potential tirade of insults. As the twins open up the box, they both find it was actually the Dick Butkus autographed football that their father ordered online, something Logan recognizes first. Lindy begins impersonating a football player with it, without realizing the importance of that particular football. When he tells her it's a rare collector's item, she immediately tries to throw the ball towards him but ends up throwing it in the sink instead. Both fear the soapy water will wash away the signature, and immediately blame each other for ruining the ball before they try to salvage whatever is left of it.

The scene changes to Rumble Juice where Garrett, Lindy and Jasmine are hanging out. Garrett had recently won a football game and continues to wear his jersey for good luck, but in reality all it delivers is a pungent odor. Delia talks Jasmine into going on a double date with one of two nerdy boys from her fantasy tetherball league, an activity that she thinks is too mainstream. Delia wants to go out with Sean, and urges Jasmine to go out with Alex.
Returning to the Watson family kitchen, Lindy rescues the ball from the sink with a pair of tongs, and places it on a towel. Just as this happens, Bob arrives home and Lindy tries to stall him while Logan finds a place to hid the ball and dry it off at the same time. Lindy's effort to stall her father are loaded with sappy sentimental tales of how he'll miss spending time with them during their teen years, even going so far as to try to inject puberty in the discussion. The two try to talk him into going out to dinner by himself, but instead he offers to take them both out to dinner.
At another dinner at Rumble Juice, Delia and Jasmine are on their date with Sean and Alex, respectively. During the date Jasmine finds she has nothing in common with either of the boys, who happen to not only be into fantasy tetherball but the Lord of the Rings series of books and movies.
After the Logan family restaurant diversion, the kids try to distract their father again, by urging him to skip dessert and go to bed early. While he's in the bedroom, the kids try to deal with the football issue, As it turns out, Logan had put the ball in the freezer before they left, in the hopes of drying it off quicker. The ball is covered in frost, and when they try to remove it to thaw it out, the ball becomes too cold to touch and it shatters as it falls to the floor.
In the cafeteria at Ditka High, Lindy, Logan, and Garrett are sitting at a table where Logan is looking for a substitute for the shattered football. Garrett insists that they should've worn his lucky jersey, and Lindy reminds him that at this point, it would be covered in bacteria. In the hallway Jasmine approaches Delia at her locker and tells her that the boy she set him up with on their double date was too weird and awkward for her. Delia reveals that he wasn't interested in her either because he's into quirky girls and she isn't quirky enough for him. Jasmine is perplexed by this because she views herself as being the kind of girl that all the boys in high school want.

Lindy and Logan arrive at the Lakeside Athletic Club in Chicago, because they found out that Butkus goes there to work out. They arrive with a football hoping to get him to sign it. When Logan tries to find him in the spa, he mistakenly approaches a small Asian-American woman in her 50's or 60's. Realizing his mistake, he walks away disturbed by what he saw. Lindy begins to contemplate giving up their quest.
At Rumble Juice, Logan is thrown out because of the smell of his jersey, and begins to contemplate taking it off. Just as he does so, a young pretty brunette named Megan approaches him and praises him for his recent game-winning field goal. He tries to ask the girl out, but she offers to go the next day rather than that day, and refuses to have it at Rumble Juice due to the weird smell that she assumes it at the smoothie joint itself.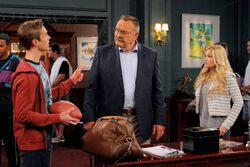 Back at the athletic club, the twins are about to give up their search for the football legend, when Lindy realizes he just took a selfie in front of them. They approach him and try to ask for his autograph, but he tells them he only does so for charities and special causes. The two randomly concoct a story about his father being in a full-body cast after being injured while investigating a runaway snowmobile crashing through the basement and falling over the staircase which was being eaten away by termites. Butkus refuses to sign the ball, and instead offers to arrive at their house and sign the football for him there. They try to talk him out of it citing the high price of gas, but he reveal that he not only drives a hybrid-powered vehicle, but carpools on a regular basis.
Later Jasmine tries to give herself a "quirk-over." She approaches Delia and the two boys from their double date with lock of her hair randomly tied in braids and messed-up pony tails, a backpack, a pineapple necklace, a long sweater, a leotard under her skirt, mismatched shoes, fake glasses and no makeup. Her attempt to act and dress quirky scares the two boys away, and Delia tries to find out why she's acting this way. Jasmine tells her that she was trying to act quirky like her. Delia feels insulted, and Jasmine senses this. Realizing how furious her friend is, she tries to apologize, but her apology is clearly not accepted.
In the basement, Logan and Delia are trying to set the basement up to reflect the ridiculous story they told the football legend, which Garrett believe will fail miserably. Logan reveals that he intends to bandage a complete stranger from head to toe, and get him to pretend to be their father. When he tries to find out who is going to do such a thing, the twins reveal it's someone who owes them for not revealing that he lost an arm wrestling match to his six-year-old sister, and who cried after it happened, and who can't get to sleep without circus music playing in the background. Garrett suddenly realizes he will be the one who is going to impersonate their father.
Back at Rumble Juice, Jasmine is casually preening on her phone when Delia, who has dressed in such a way to mock Jasmine walks in and approaches her, pretending to wait for a boy to offer to buy her a smoothie and tell her she's pretty while flinging her hair in Jasmine's face. Suddenly a boy approaches her and does just that, but Delia tells him to get lost. As Delia continues her tirade, Jasmine recognizes Delia's elaborate attempt to insult her, and lets her know in no uncertain terms that she has not only failed, but truly made herself more attractive. The boy who tried to ask her out earlier agrees, but Delia blows him off again. Jasmine explains that she meant no offense by the quirk-over and simply wanted a sneaky way to reject Alex after their failed date. They both reconcile, but the boy who was hitting on Delia tries to pick her up a third time, and she angrily tells him to leave.
At the basement, Garrett reveals that the cast they wrapped him up in is so tight it causes his voice to squeak. Butkus' carpool buddy turns out to be none other than existing Chicago Bears Wide Receiver Alshon Jeffrey. Thinking he's talking to their father, he tells them that he has two great kids. Garrett brags about himself in the third person mentioning his recent game-winning field goal, and Butkus is baffled about the concept of a high school being named after Mike Ditka. While they try to get him to sign the football, Alshon notices that the railing along the stairs looks like it was cut with a power drill rather than eaten by termites, and their real father is heard in the background. Lindy claims the man is their family butler, and Logan, claims he's their neighbor. Their father walks in and tries to figure out what's going on, but as he does so, he bangs on the railing causing him to fall into the basement. Jeffery bolts over the railing next to the stairs and catches him in mid-air. Lindy urges Jeffery not to spike their father like a football. The scene is flashed forward to after the cold opener, and both decide to leave. Before they get the chance to do so, Logan tries one last chance to get them to sign the ball. Butkus spitefully deflates it and sarcastically denies responsibility for doing so as he and Jeffery walk out.
Finally at Rumble Juice, Garrett has his date with Megan, who is disturbed over the fact that he's still wearing his full-body cast. He insists the cast is lucky because he was wearing it when he met Dick Butkus and Alshon Jeffrey, but she's not impressed. The girl leaves the smoothie joint as he futility pleads her for assistance in drinking his smoothie.
Cast
Main Cast
Recurring Cast
Special Guest Stars
Guest Cast
Ariela Barer as Megan
Ryan Malgarini as Alex
Lukas Gage as Guy
Trivia
Garrett revealed he has a six year old sister.
This is the first time a famous celebrity has guest starred in an episode, the second being Raelynn, in the Season 2 episode, Cheer Up Girls.
International Premieres
November 3, 2014 (Japan)
November 9, 2014 (Poland)
December 1, 2014 (Australia)
December 15, 2014 (Latin America and Brazil)
Memorable Quotes
Delia: (mocking Jasmine) Hmm, what should I get? Maybe I'll just stand here looking pretty, and wait for a boy to buy me a smoothie and validate me.
Guy: Hi. Can I buy you a smoothie?
Delia: Beat it.
Gallery
| | |
| --- | --- |
| | To view the Ball or Nothing gallery, click here. |
Videos