"
That is so Logan Classic.
"
"Food Fight" is the seventh episode in Season 2 of I Didn't Do It. It premiered on April 8, 2015. It is the 27th episode overall.
Overview
Lindy
is excited about her new gig as the school's food critic until she dines at a family restaurant and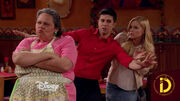 the food is terrible. Meanwhile,
Jasmine
gets a babysitting job and winds up competing with her nine-year-old charge.
Cast
Main cast
Guest cast
Paul Rogan as Mr. Jenkins
Zoe Pessin as Aubrey
Eddy Martin as Ernesto
Lidia Porto as Abuelita
Tanner Stine as Hogan
Eileen Galindo as Juanita
Skyler Seymour as Barrett
Absent
Quotes
Logan': That is so Logan Classic.
Logan: You're my best friend. No one could replace you.
Garrett: I feel the same way.
Trivia
A parody of Garrett and Logan, Barrett and Hogan, were in the episode.
This episode aired on a Wednesday, instead of Sunday.
This episode was part of Disney's "April Fuel" weeknights, with Liv and Maddie.
This episode aired at a special time, 7:00 p.m.
This the only episode that Betty LeBow does not appear in, although she is briefly mentioned by Garrett in the beginning of the episode for ordering too many bananas.
This episode is similar to an episode of Drake & Josh called "Drew & Jerry", where there are poradies of two characters.
Goofs
When Abuelita threw the big knife at the picture of her and Lindy, the big knife went directly through the picture, which should've shattered the glass that protects the picture inside the picture frame, but it didn't.
Gallery
| | |
| --- | --- |
| | To view the Food Fight gallery, click here. |
References
1. Tittle and episode number
2. Plot